What Exactly is Composite Decking?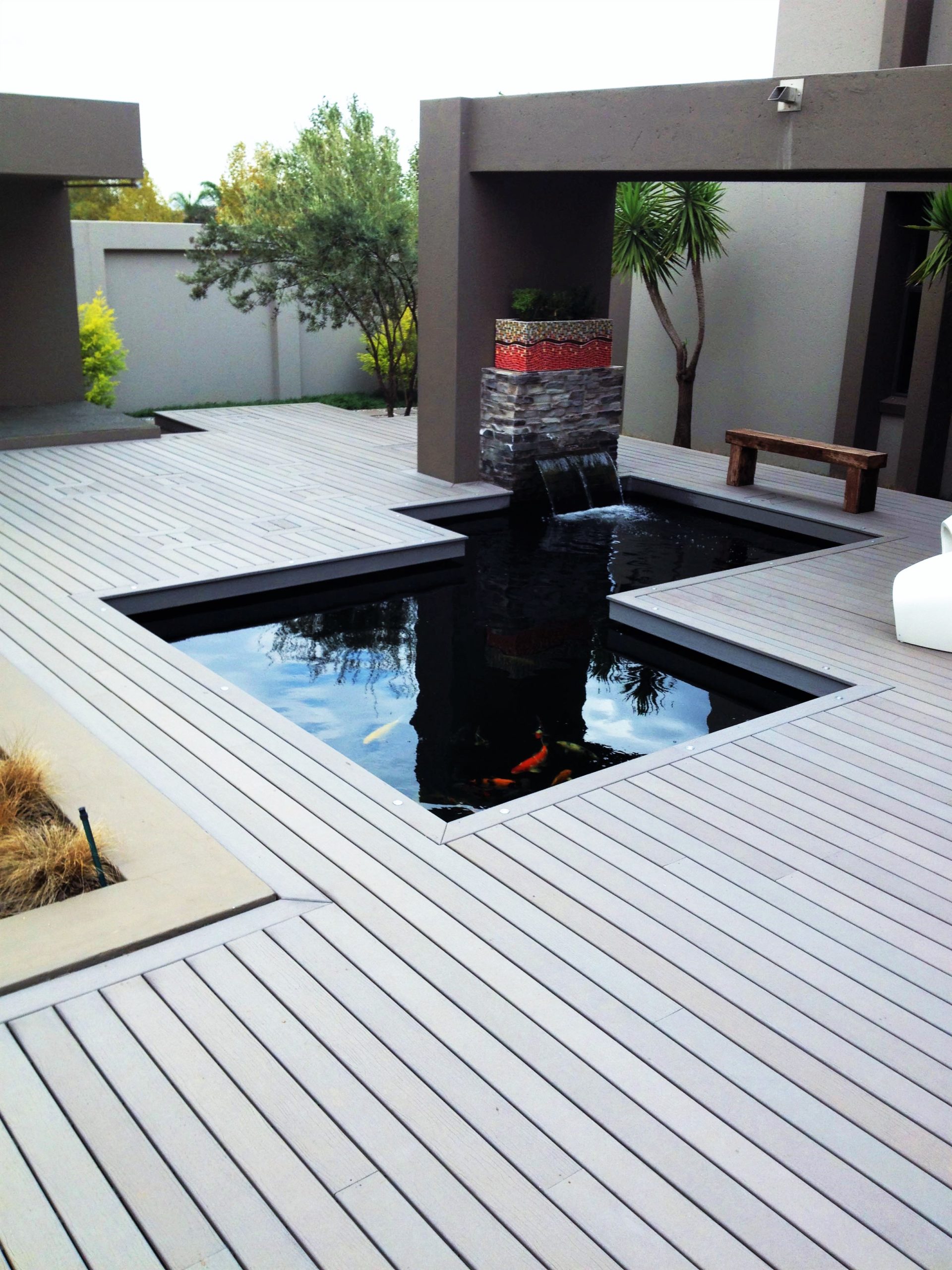 And Why is MoistureShield so aptly named?
Do you ever wonder who in the world comes up with the names of paint colors? Hues like Mariposa Faun, Angel's Whisper and Burnt Dew*? These dreamy, ambiguous names often do little to describe the actual product, unlike our MoistureShield® Composite Decking, which is one of the most precisely named products in the history of products. Let's discuss a little about composite decking and what makes MoistureShield such a great name.
What is Composite Decking Material?
The primary materials in composite decking boards are wood fibers and plastic. The ratio of wood to plastic varies from brand to brand. Typically, composite decking incorporates polypropylene or polyethylene plastic, which works well with wood fibers to create a material that is stronger and more resilient than 100% plastic decking.
Composite decking lasts longer than natural wood and does not require sanding, staining and sealing every couple years to stay in good shape—maintenance over time that adds up in terms of time and dollars. Typical maintenance for composite decking consists of removing debris with a broom or leaf blower and spot cleaning with soapy water and a nylon bristle brush. Composite decking is also resistant to insects, rot and decay and is less prone to splintering.
Why the Name MoistureShield?
MoistureShield takes all of the benefits of composite decking one step further with our Solid Core™ Difference, which literally blocks (or shields) moisture from entering the material. Most composite decking is made by mixing plastics and wood fibers together and adding them to an extruder that forms the mixture into a composite board. During MoistureShield production, our Solid Core process encapsulates each wood fiber with plastic. This makes the wood fibers more durable and moisture-resistant, while the wood fibers reinforce the plastic, making the finished board more rigid. The composite boards are then extruded and allowed to cure slowly, preventing twisting and warping. Our composite decking can be installed in the ground, on the ground, or underwater without any structural performance issues.
Long-lasting Durability and the Look of Natural Wood, Too?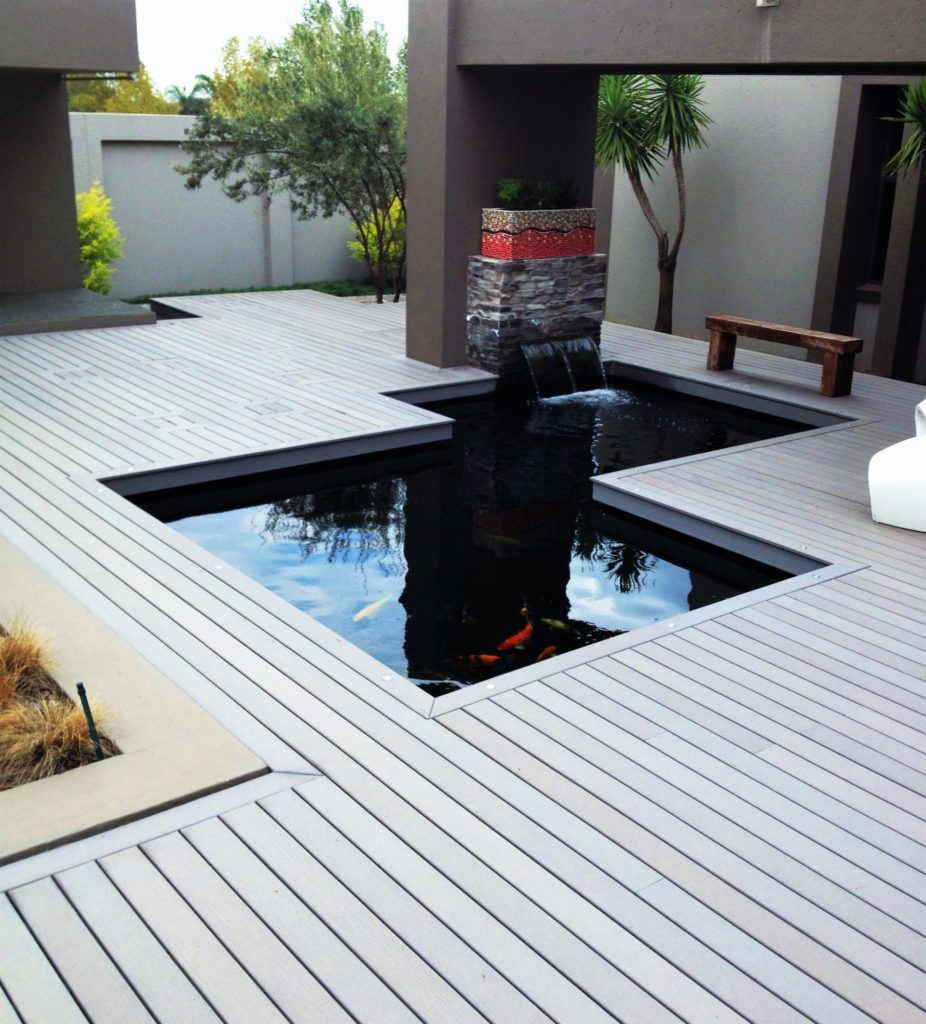 MoistureShield Composite Decking combines all of its durability with the beautiful look of natural wood. While the average deck constructed of pressure treated lumber needs replacing after about nine years, MoistureShield is backed by a 50-year structural warranty for added peace of mind. We offer a variety of products with a range of features. Our Vision®, Meridian™, and Elevate™ products showcase variegated colors with an embossed surface texture that add to the overall natural effect and captures the look of natural wood. A few years ago, we performed an in-depth texture study for Elevate and Meridian, and used that feedback to make the perfect combination of micro-textures and cathedrals to mimic real wood grain. Meridian takes it a step further with TruTexture™ surface to minimize the emboss repetition patterns that make some competitor boards look obviously fake.
Sustainability is Also Part of Our DNA
MoistureShield Composite Decking is made with 95% recycled content (25% post-consumer recycled content, 70% pre-consumer recycled content). The polyethylene used to make MoistureShield composite decking is non-toxic and is used for applications such as milk jugs, water jugs and grocery sacks. By using these types of products in our production process, we reduce energy consumption and emissions, and we are proud to be repeatedly recognized with numerous awards from the EPA and the building industry.
Full Disclosure on MoistureShield Color Names
While we did poke a little fun with our friends in the paint industry, we do have to admit that we have a few products with unique color names ourselves, like Citadel, Mariner and Canoe. However, we think you'll give us a pass knowing all of the great benefits MoistureShield offers over wood. Overall, our aptly named MoistureShield Composite Decking is more durable and longer lasting than wood and a valuable investment for your home and family.
*While all paint colors listed may seem realistic and based in fact, they are indeed made up, so as not to disparage any of the actual paint colors that add such beauty to our lives.