MoistureShield Vision®
Capped Wood Composite Decking
Bold. Refined. Infinite.
It's time to step up to the future of composite decking. MoistureShield Vision, our strongest capped wood composite board, is protected with our exclusive DiamondDefense™ Coating to exude distinctive style while resisting scratches, stains, and damage on impact. MoistureShield's Vision deck boards are available in beautiful color options and textures that reflect the look of real hardwood while ensuring unmatched performance features designed to last a lifetime.
1″ x 6″ deck boards
Available in 12′, 16′ and 20′ lengths
Offered in solid edge and grooved
50-year transferable structural warranty
50-year limited fade and stain warranty
For color availability in your region, please contact your MoistureShield representative.
Solid Core
An impermeable barrier that fights damage from moisture, rot, insects and other harmful elements.
Zero Field Failures
Our products have stood up to the elements for more than 30 years with no structural field failures.
DiamondDefense™ Coating
Creates the strongest composite cap in the industry to resist damage from scratches, stains and fading.
CoolDeck® Technology
Helps create more comfortable outdoor living environments by reducing heat by up to 35%.**  Vision CoolDeck colors are Cathedral Stone, Mochaccino and Cold Brew
Slip Resistance
Our highest slip resistance at 0.83 dry/0.77 wet. Perfect for bare feet!
**Reduces heat absorption by up to 35% compared to standard capped composites in a similar color.
*Actual product color may vary from what you see online due to variations in computer monitors and browsers. To verify product color before purchase or installation, please order a sample and view it in the natural lighting conditions for your decking or cladding project.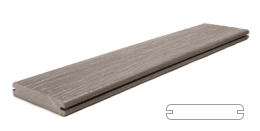 1" Grooved Edge Deck Board
Actual Dimensions: 1" x 5.4"
Available Lengths: 12', 16', 20'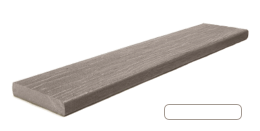 1" Solid Edge Deck Board
Actual Dimensions: 1" x 5.4"
Available Lengths: 12', 16', 20'
2"x6" Solid Marine Grade Board
Actual Dimensions: 1.4" x 5.4"
Available Lengths: 12', 16', 20'
Fascia Board
Actual Dimensions: 0.67" x 11.25"
Available Lengths: 12'
Decking Installation, Care & Maintenance Instructions
We've engineered Moistureshield decking to be easy to install and even easier to maintain—but if you're installing it yourself, make sure you follow our official guidelines to ensure that you don't void your industry leading warranty.