How to Clean and Maintain Your Composite Decking
As with all exterior products, cleaning your composite deck regularly will help keep it looking new for years to come. If you have any questions or concerns about the best way to clean or care for your composite decking that aren't covered in this guide, please call our Customer Service Team at 866.729.2378 or contact us online.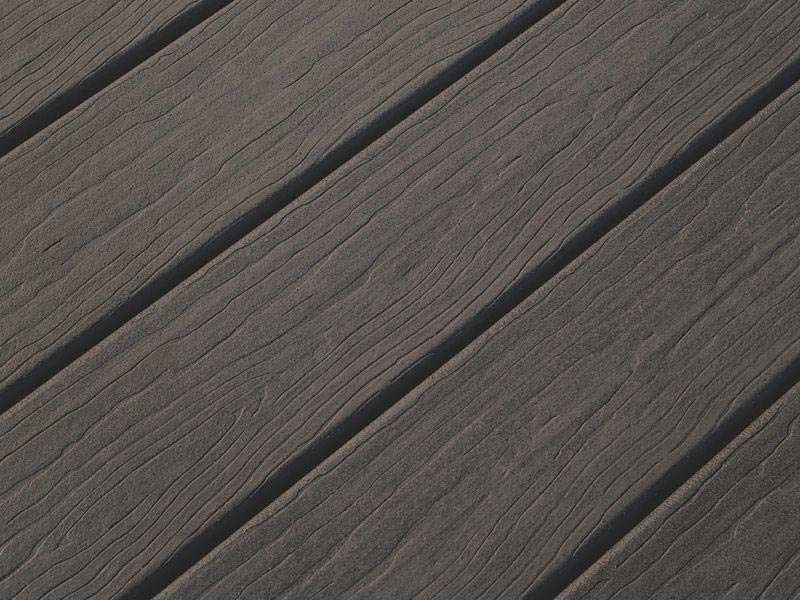 If you have any questions or concerns about caring for your deck please call customer service at 866.729.2378 or contact us online.
Tips Before You Start Cleaning Your Composite Deck
Always follow the directions for proper use, disposal, and safety when using any composite decking cleaning product.
Always test cleaning products in a small inconspicuous area of your deck to ensure it achieves the desired results.
Never mix cleaning products (ammonia, phosphoric acid, etc.) with bleach.
Always spray water on plants and shrubs around the deck before and after the use of any deck cleaning solutions; fully cover sensitive vegetation.
In some cases, stubborn stains will require reapplying cleaners until the desired level of cleanliness is achieved.
Product-Specific Note: Since the MoistureShield Vantage series is an uncapped composite decking, it may require additional cleaning methods.  ALLOW VANTAGE PRODUCTS TO WEATHER NATURALLY FOR 3 TO 6 MONTHS BEFORE PROCEEDING WITH THE BELOW CLEANING METHODS.
Warranty Note: MoistureShield series that include a Fade and Stain Warranty should be cleaned within one week of exposure to potential staining agents to prevent voiding the stain warranty. Refer to the MoistureShield Warranty document for coverage details. 
Removing Dirt & Debris
Keep your composite deck cleaner longer by removing dirt and debris weekly using a broom or leaf blower. If necessary, use mild soap and warm water with a nylon scrub brush to gently remove grime and stubborn spots.
Cleaning Bio-Based Stains, Mold &  Mildew
To quickly remove mold stains from composite decking, apply Olympic Premium Deck Cleaner as directed; this is a bleach-based composite deck cleaner and may lighten the deck's surface appearance. For optimal results, apply over the entire deck surface to maintain color continuity.
For lasting results after cleaning, use Spray and Forget to help inhibit mold development. As a preventative measure, Spray and Forget can be used once a year in high mold environments.
It is best to clean bio-based staining agents, such as bird droppings, as soon as you notice them to avoid the natural tannins from staining the deck, which will require more vigorous cleaning.
Read and follow all instructions and safety precautions provided by the cleaning product manufacturer before proceeding. Wear appropriate protective gear, such as safety glasses and gloves.  Please refer to our Mold and Mildew Cleaning Instructions for additional tips and tricks.
Removing Tannin Stains, Water Spots & Rust Stains
As with any product containing wood, temporary bluish-black "tannin" stains can develop on composite decking. These will naturally fade over time or can be quickly removed with a composite deck cleaner containing oxalic acid (commonly known as wood brighteners). This type of deck cleaner can also be used to remove water sports and rust stains. Using a composite deck cleaner containing oxalic or phosphoric acid may lighten your deck, be sure to follow manufacturer instructions. For optimal results, apply over the entire deck surface to maintain color continuity.
Tannin oils also wash out of plant matter or organic debris as it dries. Sweeping away debris will help prevent these stains from occurring.  Please refer to our Tannin Cleaning Instructions for additional info.
Cleaning Food Oil & Grease Stains
Use a household degreasing agent, such as dishwashing liquid, to remove food-grade oil and grease stains from composite decking as soon as the stain is noticed. Apply with warm water and gently scrub the area with a nylon brush. Thoroughly rinse the detergent off of the deck with warm water.
If the stain sits for more than two hours, the most effective method of removal is with an oil stain remover formulated for decking, such as Pour-N-Restore .
Removing Chalk Lines
Use a blue or white chalk line when installing your composite deck. DO NOT USE RED CHALK. Scrub the affected area with soap and hot water to help remove the stain.
Tips for Pressure Washing a Composite Deck
Pressure wash your MoistureShield deck as needed to remove built-up grime. Use care as pressure washing with too much pressure can cause irreversible damage to composite decking. Use a fan tip blade with no more than 1300 PSI and keep the wand at least 10 inches from the deck surface.
Fixing Scratches & Surface Abrasions
MoistureShield composite decking boards are built to withstand typical use. Light scratches on our uncapped Vantage series boards will fade in 12 – 16 weeks due to their self-healing properties. Our Elevate, Meridian, and Vision series feature polymer caps, offering levels of enhanced scratch resistance built right in the board.
Areas with heavy damage, such as deep abrasions or broken boards, may require the replacement of affected boards. Steps for replacing boards depend on the type of fastener used to secure them to the joists. Review our Installation & Maintenance Guide for step-by-step instructions on replacing damaged boards.
DO NOT sand the top surface of composite decking boards to remove scratches. Sanding will remove the embossed surface texture and cause discoloration.
DO NOT attempt to fill deep scratches with putty or wood fillers. These materials will not adhere to composite decking due to the plastic content.
DO NOT apply paints, stains, or sealers to repair scratches or change the overall look of your composite decking. These products will not adhere to composite decking due to the plastic content.
Removing Snow & Ice
Use a clear ice melt formula or rock salt to prevent accidental stains on your composite deck from these materials.  Select ice melt that indicates it's safe for use on concrete and flagstone, as well as safe for children and pets. Remove excess ice melt or salt from your deck with a push broom.
Clean your deck as soon as outdoor temperatures permit with warm soapy water and a thorough rinse to ensure the surface is clear of any remaining ice melt or rock salt.
Do not use sharp tools (such as metal shovels, and metal or plastic ice picks) to clear snow and ice. They can accidentally gouge your composite deck surface.
Do not apply sand over your decking to create traction. Sand is highly abrasive and can scratch any composite decking surface.
Periodic cleaning keeps your composite decking looking refreshed, even years after installation.
These manufacturer recommended products are safe to use on MoistureShield wood composite decking products.
*Follow all package directions for proper usage, safety precautions and disposal. In some cases more stubborn stains will require reapplying cleaners until the desired level of cleanliness is achieved. At times, brushing the deck with a hard bristle brush may be necessary to remove any stubborn staining. Remember to always test chosen cleaners in a small inconspicuous area of your deck for approved results. Never mix any other cleaners (ammonia, phosphoric acid, etc.) with bleach.