Elevate Your Waterfront Property
Four Reasons to Choose Composite Decking
There are few things more enjoyable during summer than relaxing by the water. Waterfront properties are highly sought after but building in these fragile landscapes can present unique challenges. If you're looking to build a waterfront deck, dock or boardwalk this season, there's a few things you should consider first.
The first and most important decision to make when planning a waterfront deck is what material you choose. MoistureShield composite decking provides unbeatable moisture protection with our proprietary Solid Core Difference™ that enables our decking to be installed on the ground, in the ground or underwater by creating an impermeable barrier that also fights damage from rot, insects and other harmful elements.
In this blog, we'll lay out why we believe composite decking is the most beautiful, long lasting, safe and cost-effective option available on the market.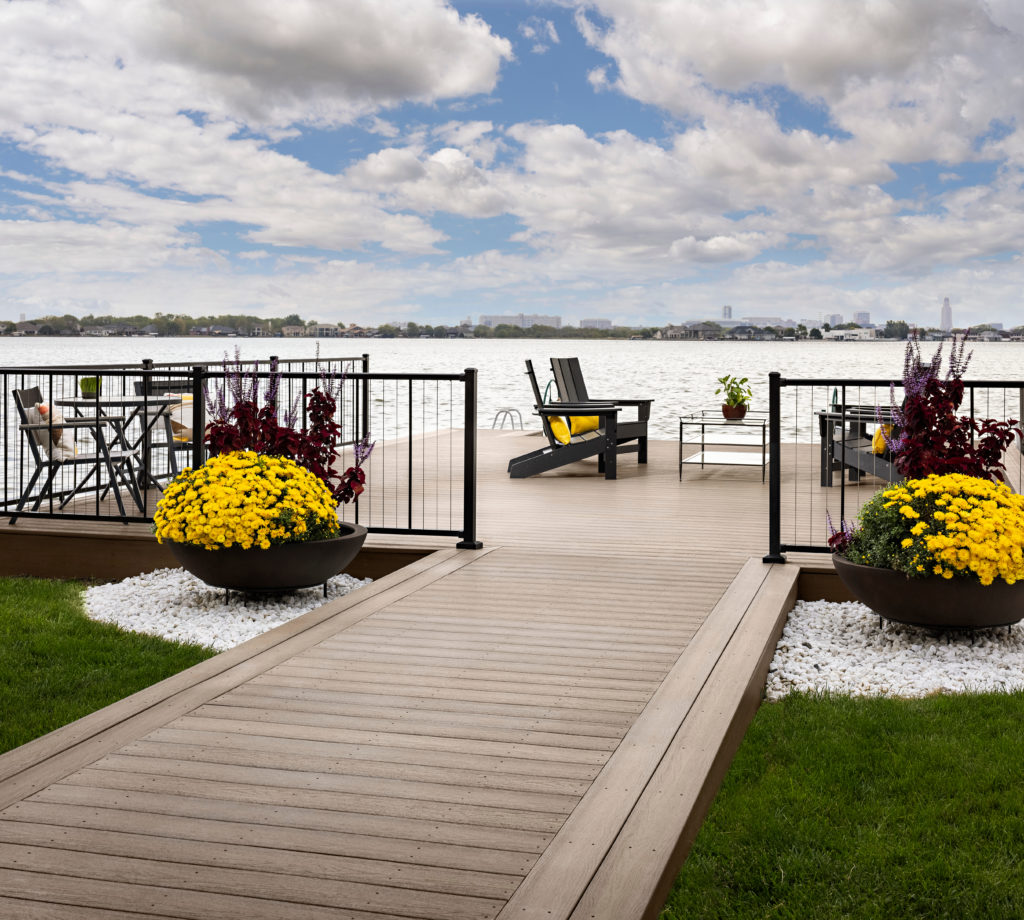 Enhanced Aesthetics
One great advantage of composite decking is its ability to hold color. Unlike traditional wood decking, which quickly fades over time, there is no need to stain your composite deck. This is especially important for waterfront properties, where sun, wind, sand and salt spray can speed up the fading process. Opting for composite decking like MoistureShield's Vision®, Meridian™ and Elevate™ ensures your deck will look better for longer, without the hassle of regular maintenance.
MoistureShield composite decking offers a wide range of colors and textures that will complement the natural beauty of any waterfront environment. Whether you prefer the classic look of wood grain or a more modern, sleek finish, we have what you need to match your style and elevate your space.
Durability
In normal conditions, even with regular maintenance, traditional wood decking will only last around 20 years. In waterfront environments, where decking is exposed to constant moisture and the increased risk of rot, this lifespan could be even shorter. Composite decking is designed to withstand wet conditions. Our Solid Core Difference boasts virtually no moisture absorption, keeping rot at bay. That's just part of the reason why MoistureShield decking will last and backed up by a 50-year structural warranty, guaranteed.
Composite decking isn't just better at keeping out moisture. It also protects against warping, cracks, and will not splinter like wood decking. With a composite deck, you won't need to worry about stepping on a splinter or replacing damaged decking boards. MoistureShield's DiamondDefense™ Coating, a feature of our Vision line, creates the strongest capped wood composite board on the market. That means you can spend more time hosting friends and less time worrying about chips and scratches.
Safety Considerations
Where slips and falls are most common, composite decking has you covered. Wooden decks left untreated become slippery and dangerous. Combine this with wet feet from the lake, pool or beach and the problem gets worse. MoistureShield composite decking boards offer some of the highest slip resistance on wet surfaces in the industry. And with deck boards that can be installed on and underwater, slip resistance is an important consideration for any waterfront property.
We also help keep bare feet safe in the hot sun with deck boards that are engineered to reduce heat absorption up to 35% — like offered with our CoolDeck® Technology available in our Vision and Meridian lines.
With high-quality composite decking, like MoistureShield, you can be sure you and your family are safe doing what you love.
Cost–Effectiveness
Although composite decking may involve a slightly higher upfront cost, it proves to be a very cost-effective investment over time. With its exceptional durability, MoistureShield composite decking eliminates the need for frequent repairs and replacements, resulting in long-term savings.
Its unique ability to retain its visual appeal without the need for regular staining or sealing reduces maintenance expenses. Finally, quality composite decking like MoistureShield enhances property value and marketability. This makes it a smart financial decision for any homeowner.
Discover the Difference
From our proprietary Solid Core to our heat absorbing CoolDeck Technology and protective DiamondDefense Coating. MoistureShield is the only high-performance composite decking engineered to deliver 360-degree protection, 365 days a year. If you want superior protection, lower maintenance and decking boards that beat the heat, you can order three free product samples online now. Make the switch and discover The Solid Core Difference™ today!