MoistureShield Elevate™
Capped Wood Composite Decking
Strong. Dynamic. Fundamental.
Get advanced protection and beauty without breaking your budget with Elevate composite decking. Our introductory capped wood composite board is shielded with a strong, protective barrier to help prevent damage from impact, corrosion, and weathering in virtually any environment. Additional defense lies in our proprietary Solid Core for zero structural field failures on the ground, in the ground or underwater. Available in a curated selection of classic and premium color options, Elevate capped composite decking allows you to create a stylish, durable outdoor environment simply and affordably.
1″ x 6″ deck boards
Available in premium colors with variegation for added texture and depth
Offered in solid edge and grooved
Available in 12′, 16′ and 20′ length boards
50-year transferable structural warranty
30-year fade and stain warranty
Hear from contractor John Lea of Deck South on why he chose to build with Elevate
Solid Core
An impermeable barrier that fights damage from moisture, rot, insects and other harmful elements.
Great Value
Affordable and beautiful decking for a stylish outdoor environment.
Zero Field Failures
Our products have stood up to the elements for more than 30 years with no structural field failures.
Slip Resistance
Great slip resistance at 0.71 wet/0.77 dry. Perfect for bare feet!
*Actual product color may vary from what you see online due to variations in computer monitors and browsers. To verify product color before purchase or installation, please order a sample and view it in the natural lighting conditions for your decking or cladding project.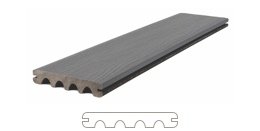 1" Grooved Edge Deck Board
Actual Dimensions: 1" x 5.4"
Available Lengths: 12', 16' and 20'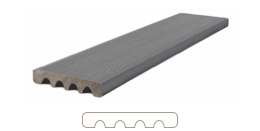 1" Solid Edge Deck Board
Actual Dimensions: 1" x 5.4"
Available Lengths: 20'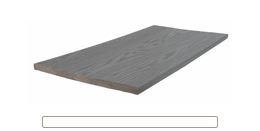 Fascia Board
Actual Dimensions: 0.67" x 11.25"
Available Lengths: 12'
Decking Installation, Care & Maintenance Instructions
We've engineered Moistureshield decking to be easy to install and even easier to maintain—but if you're installing it yourself, make sure you follow our official guidelines to ensure that you don't void your industry leading warranty.