The Ultimate Guide to Choosing the Best Composite Decking
How to Choose the Right Composite Decking in 5 Easy Steps
You've done your homework and decided that composite decking will be ideal for creating your dream outdoor living space. With dozens of composite wood decking brands available, how do you choose which one to go with?
Ask yourself these five questions before you build your outdoor oasis.
1. How Moisture-Resistant Is The Product?
Composite decking is made of a mix of wood fibers, plastic and small amounts of additives like pigments. The wood fibers provide strength, while the plastic protects the finished boards against moisture damage. However, composite wood decking brands vary widely in their moisture performance. Resistance to moisture depends on how fully the plastic encapsulates the wood fibers. As this is technically difficult to achieve, MoistureShield composite decking is the best choice as they are the only composite brand that can be installed on the ground, in the ground or even underwater without voiding its warranty.
2. Has The Composite Decking Brand Ever Had A Structural Field Failure?
Composite wood decking that has exposed wood fiber is susceptible to moisture absorption. As with traditional wood decking, composites that absorb moisture are at risk for failure. Some brands have been subject to class-action lawsuits for various defects. When doing your research for the best composite decking, select a brand for its proven performance. MoistureShield has never had a structural field failure in more than 30 years of making composite decking.
3. What Warranties Back The Composite Wood Decking?
Warranties can vary widely across composite decking brands. Because MoistureShield decking products are protected through the entire board against moisture intrusion, the brand offers one of the best composite decking warranties in the industry. Most of our decking lines come with a transferable 50-year structural warranty that provides peace of mind against defects in material and manufacture. The innovative MoistureShield Vision composite decking line is further protected by a 50-year fade and stain warranty, while our entry-level Elevate composite decking line includes a 30-year fade and stain warranty.
4. How Hot Will The Composite Decking Get In The Summer?
As composites are denser than wood decking, they tend to absorb heat and can become uncomfortably hot in summer. An overly hot deck reduces the time you can spend enjoying it, so it is important to evaluate temperature performance when choosing the best composite decking. To help maximize the enjoyment of your deck, MoistureShield has pioneered a way to keep composites cooler. Available on select products, our CoolDeck technology reduces heat absorption up to 35% compared to conventional capped composites and decreases heat transfer on contact.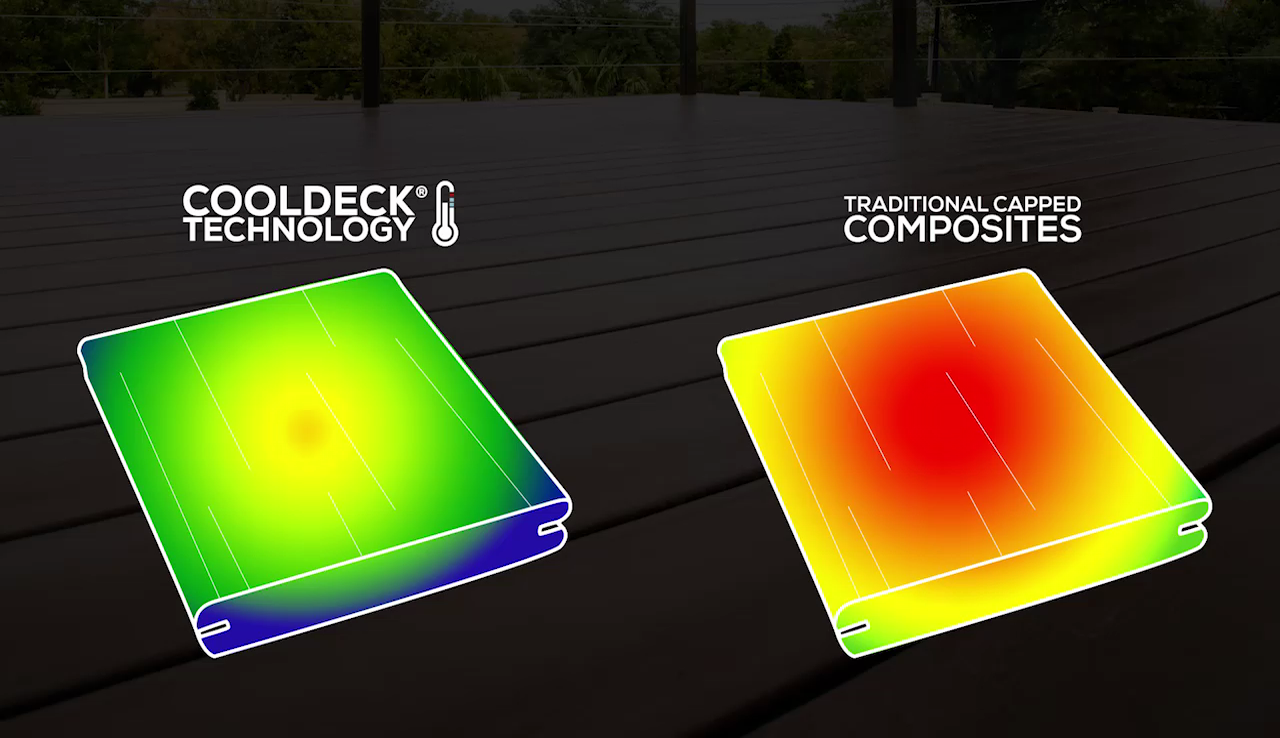 5. How Much Recycled Content Does The Composite Wood Decking Contain?
For homeowners interested in reducing their environmental footprint, some composite decking brands contain recycled content. The amount of recycled material varies widely, so be sure to ask the manufacturer for details. MoistureShield composites are made with 95% total recycled content, which helps keep discarded milk jugs, grocery bags, pallet wrap, and similar plastics out of the landfill.
So Which Composite Decking Is Best?
Because you're reading this blog post on our website, you won't be surprised that we believe MoistureShield is the best choice for composite decking material. Thanks to our Solid Core Technology, all of our composite deck boards provide ultimate durability and resistance to water, rot, and extreme weather conditions. As part of Oldcastle APG, we have access to unmatched research and development resources that enable us to bring many innovations to the market. But, don't just take our word for it. See the difference for yourself!
Request a sample and experience our patented material for yourself or find a contractor in your area that will make your dream deck a reality.