Contractor Spotlight:
Decksouth, Experts in Outdoor Living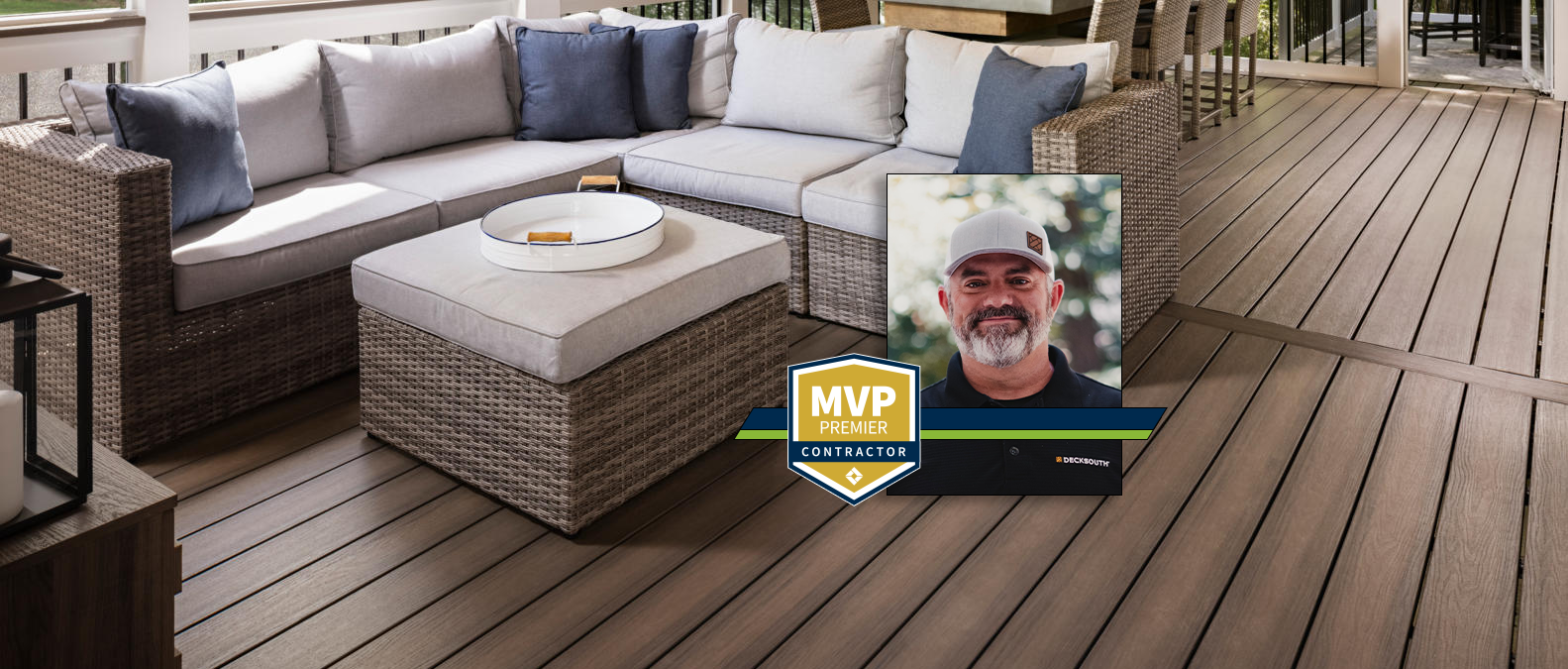 By Guest Blogger – John Lea, Decksouth
About Decksouth
Decksouth is an award-winning outdoor living designer and builder located in Atlanta, Georgia. We offer an all inclusive service from custom structural designs to luxurious builds and finishes. We've designed and constructed over 2,200 backyards since our founding in 1998 and gained a reputation as an industry leader in the deck-building community. With over 24 years experience working in various projects, we've learned a thing or two about high-quality products. That's why we're proud to say that we use MoistureShield to create outdoor living spaces that are as durable as they are gorgeous.
Why We Use MoistureShield
CoolDeck® Technology
Atlanta summers can get very hot and it's important to us and to our clients that they can enjoy their new backyard oasis without worrying about walking on a hot deck. Over the years we noticed that MoistureShields' decks had more success in offering our clients a cool deck surface. Their CoolDeck® Technology is what keeps their deck boards cool to the touch by reducing up to 35% of heat absorption — even under the hot Georgia sun. This cooling technology keeps our clients happy and is why we exclusively use their Vision and Meridian collection for our projects. Before working with these MoistureShield products, we actually gave clients flip flops to protect their feet from the heat, because deck boards will get hot! With the reduced heat absorption of CoolDeck, painful feet are no longer a hazard.
Solid Core Technology
MoistureShield's decking also includes a Solid Core Technology. This means that they can be installed in the ground, on the ground or underwater without any structural performance issues. In fact, I discovered a board that I accidentally left in a bucket filled with water. After 5 years of being completely submerged, there was zero expansion. I was sold. This type of moisture resistance is perfect for our various projects in Atlanta. From our experience, MoistureShield decks are more sturdy and have very minimal expansion or contractions in comparison to other brands. This keeps us and our clients confident in the deck's structural integrity. This technology is also why we use MoistureShield's 2×4 as sleepers. We often design and build decks that require sleepers for our commercial applications. This occurs when there is very minimal space between a concrete slab and the deck board, which then requires a product in between that can fight off moisture. In our years of experience we've never found a product that worked so well in this as MoistureShield. By using MoistureShield decking we can offer clients a product that is cool to the touch and a board that has minimal fluctuations, ideal for Atlanta's changing weather.
MoistureShield in Action
Recent MoistureShield projects installed by Decksouth.
In one recent project in Milton Georgia, we turned our client's unused backyard into a beautiful oasis. The old deck was removed and in its place we built a screen porch and open deck using MoistureShield's Meridian collection and CoolDeck® Technology. MoistureShield is also part of the Oldcastle APG family of brands. This presents the opportunity to create total backyard transformations. For example, the transformation showcased in this Instagram Reel includes a Belgard paver patio that surrounds our freeform PebbleTec pool. Our client had a sloped backyard that faces the sun for most of the day. By building the pool and patio into the hill and covering the deck with a modified gable roof and water-tight deck, the client now can enjoy outdoor living year round. Working with this portfolio of brands made it all possible. To check out the results, click on the video screenshot pictured here.
Build with the Best
If you are looking to make your dream outdoor living space a reality, Decksouth is here to help. We're an award-winning outdoor living space designer and builder with a excellent reputation for high-quality materials and customer service. Have an idea for your project? Contact us today and our dedicated team will help you bring your dream outdoor living space to life.