Can Composite Decking Touch the Ground?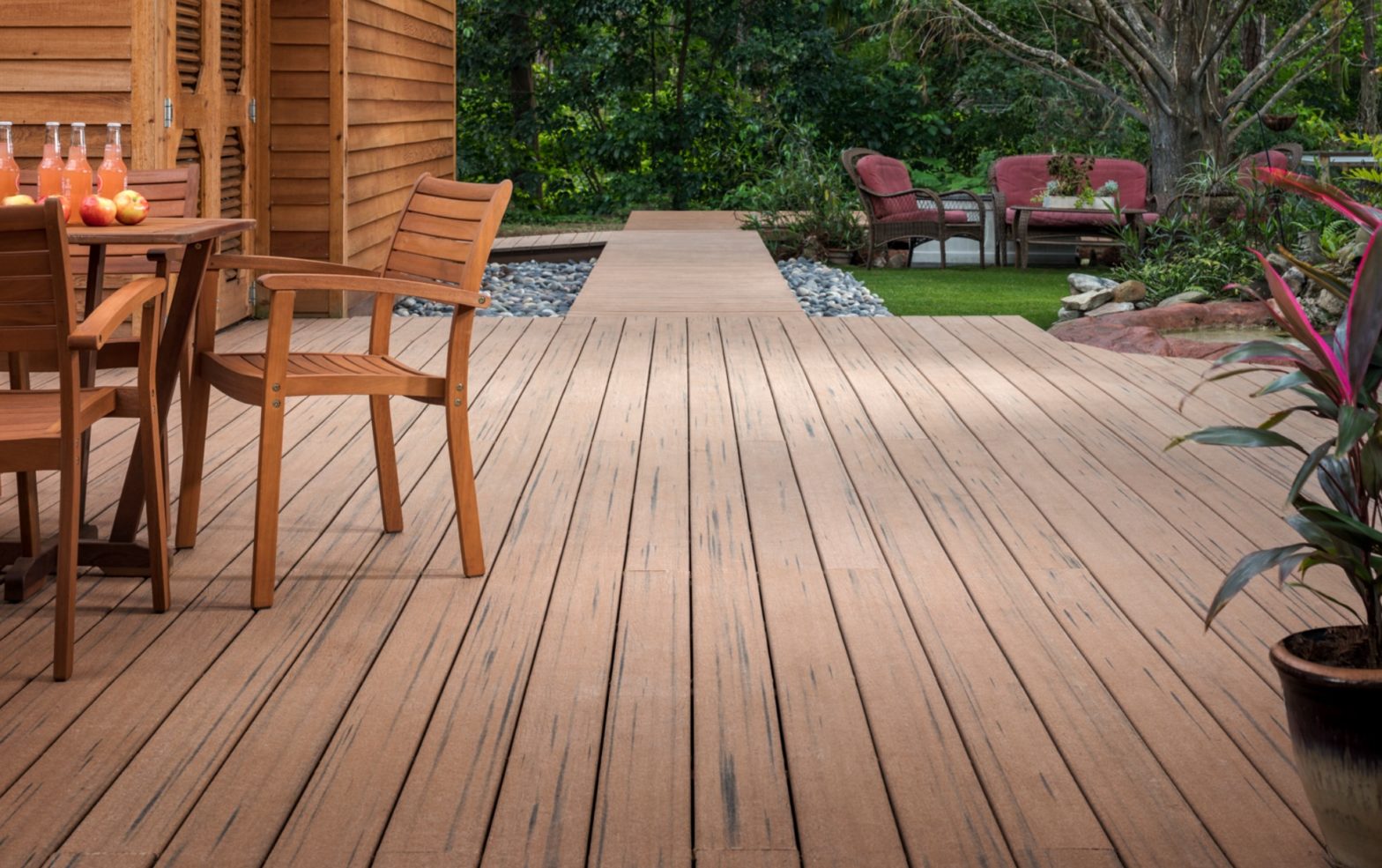 Composite decking has a well-earned reputation for being a more durable alternative to wood, but does that only apply to raised decks? If your dream deck includes a ground-hugging deck or patio, we have great news! Unlike wood decking, which is prone to rotting and insect damage, MoistureShield composite deck boards can be installed touching the ground. In fact, MoistureShield composite decking can go even lower than that. Read on to find out what we mean.
How Low Can You Go?
Songwriters and recording artists are a curious and pushy bunch. For decades they have been cajoling us to "get up," "get on the dancefloor," "raise our hands in the air like we just don't care" and for goodness sake shake a variety of body parts i.e. "moneymakers, groove things, tailfeathers and what our mothers gave us" (thanks, mom). They have also expressed a desire for the masses to "get down" and "get low" often challenging us with the query "how low can you go?" As music lovers here at MoistureShield, we took that last question to heart by making a product that can go so low, it can literally touch the ground. Cue up the dance music of your choice and read on.
Disco Deck: Create a Great New Outdoor Space for Your Home
Disco may be a blast from the past, but the human desire for attractive new decking will never die. If you're considering a new deck, here are some important considerations before you start. When choosing the material for your new deck, its location can play a big part in your decision. Will the deck surround your pool, is it a floating deck, will it sit in full sun? All of these situations do have an effect on your ultimate choice of materials. Some of these areas may be in a predominantly wet environment or the opposite, very dry — both of which can affect long-term performance. In the case of a pool deck, which will encounter lots of bare feet, splinters could be an issue with a traditional wood deck. In all of these cases, MoistureShield Composite Decking is a viable alternative to consider.
Get Down on It: Yes, MoistureShield Can Go Low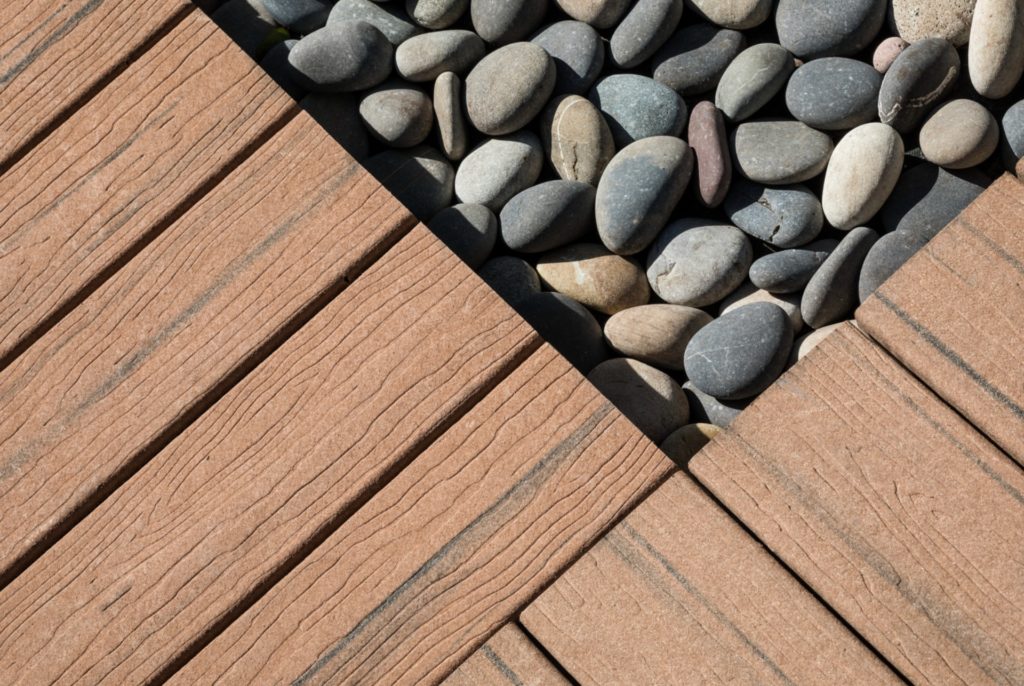 In addition to longevity, beauty and virtually maintenance-free upkeep, MoistureShield Composite Decking has the ability to be installed in direct contact with the ground. In fact, it can actually be installed on the ground, in the ground or underwater. Other alternative decking materials, including some composite and PVC decking, are susceptible to moisture. However, with MoistureShield's Solid Core DifferenceTM, our composite decking can be installed in the ground and last for years. Through our Solid Core Difference, each wood fiber of our materials is encapsulated in recycled plastic for maximum protection against the elements, even in direct contact with the ground or underwater. This technique makes it resistant to warping, moisture absorption, pest damage and more. MoistureShield has helped prevent structural field failures for more than 30 years in outdoor living spaces across the country and it is the only wood composite deck material where direct contact with the ground does not compromise warranty coverage.
Get into the Groove: Laying Composite Decking on Soil or Grass
While MoistureShield Composite Decking is suitable for installment on the soil or grass, it is not intended to be used as a structural support member. The material must be installed on a substructure such as treated lumber, metal, or materials that meet building codes. However, through any of these types of installations, the deck board may contact the ground and performance will not be affected. Such cases may include fascia installed at ground level, an exterior ADA ramp, decorative trim on hot tubs, raised bed planter boxes and more. Here are a few tips for installing composite decking with ground contact.
Any composite decking must be supported with a sound substructure to ensure the decking surface is stable; do not lay a deck surface directly on the ground without a substructure that meets local building codes. While the MoistureShield deck boards will be fine, failure to provide a sound substructure will not meet building code and can cause the decking to shift over time and you'll end up with an unstable surface.
Affix the deck or fascia board using appropriate fasteners for the application. See our installation guide for help selecting fasteners.
Like a Rock: Laying Composite Decking on Concrete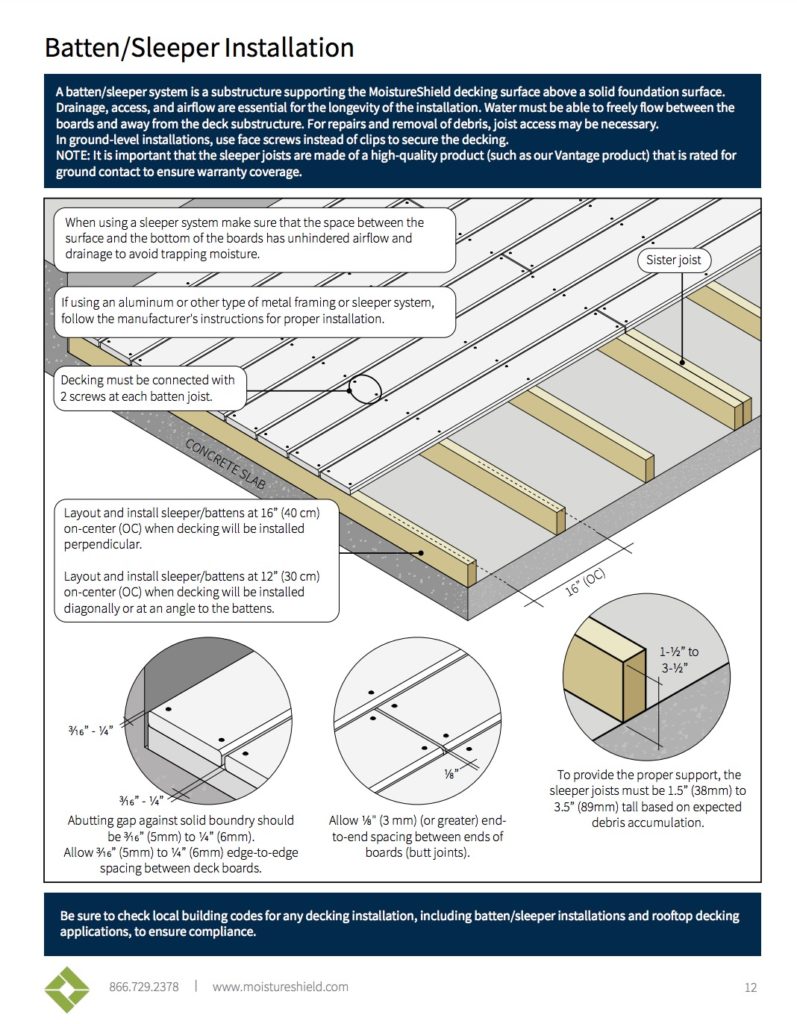 Many people choose to lay MoistureShield Composited Decking directly over a new or existing concrete slab in areas such as patios, porches, outdoor kitchens and especially on pool decks. Here are a few tip on installation over concrete.
First, evaluate your concrete area

Make sure your concrete is free of cracks and chips.
The concrete should slope away from any structure to ensure water can flow freely away; minimum slope is 1/8 for every 1'.
Concrete surfaces should be flat; watch out for areas of pooling water, which indicates a depression in the concrete surface that can trap water and create areas for mold and insects to thrive.

Incorporating a sleeper system is a wise decision

A sleeper (or batten) system is a substructure supporting the decking surface above a solid foundation surface, in this case the concrete slab.
Sleeper systems are a great solution when installing a deck on a home with exterior doors accessible within one step of ground level.
Be sure to consult local building codes to ensure your sleeper system complies with any regulations. Also, make sure the sleeper system joins securely to the concrete slab according to your local building codes.
MoistureShield decking warranty coverage includes installation on sleeper systems provided the installation instructions are followed.

Tips for installing composite decking over a sleeper system

Ensure the sleeper joists are made of a high-quality product that is rated for ground contact to ensure warranty coverage.

Our Vantage 2x size boards are a great solution.
If using a Vantage 2x product as a sleeper joist, it must be supported for the full length of the board by the concrete slab to ensure a stable deck surface.

Use face screws rather than hidden fasteners to secure the decking.
Remove plants or objects that may obstruct air and water flow under the substructure; do not fully enclose the sleeper system substructure so air and water can flow freely away from the home.
To provide the proper support, the sleeper joists must be 1.5" to 3.5" tall based on expected debris accumulation; do not install joists less than 1.5" tall to prevent accumulation of debris and obstruction of air & water flow.

For repairs and removal of debris, joist access may be necessary and may require removal of surface boards

For more information on this process, MoistureShield's installation guide includes a diagram of a sleeper system on page 12 for further review.
More and more people are creating a unique outdoor living space at their home and decks have become a popular option. As you can see, there are many situations where a deck may be in contact with the ground and if you are using traditional wood or some composite decking materials, long-term performance could become an issue. MoistureShield Composite Decking helps you create beautiful, functional outdoor spaces in any location that will last through the years.